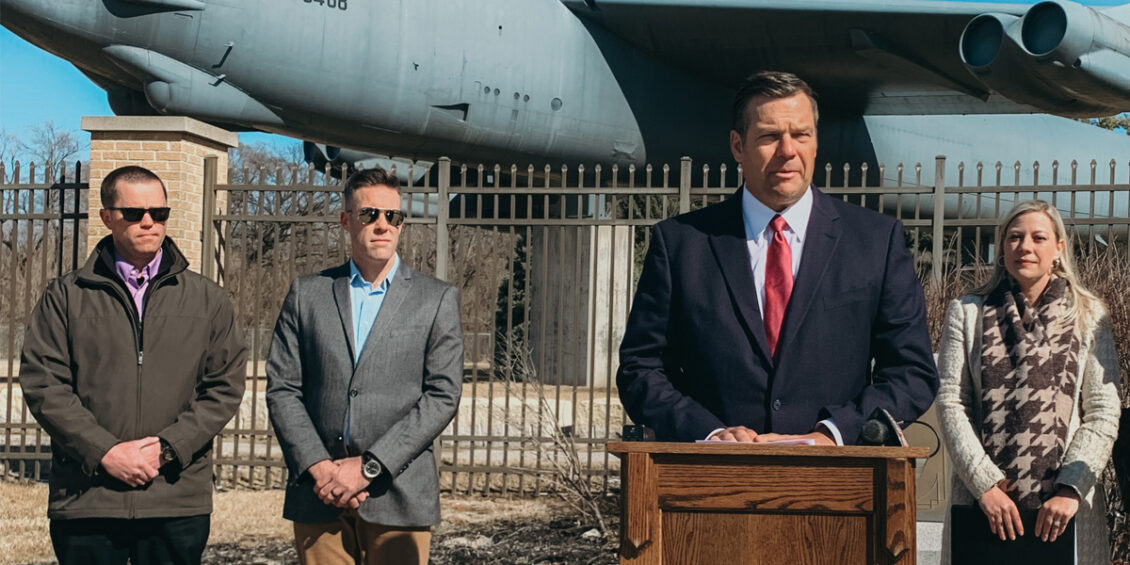 St. Louis, Missouri — Kris Kobach is defending the religious freedoms of U.S. Air Force members today in federal court.
Kobach represents 36 Airmen – primarily from Kansas and Nebraska – who face removal from the U.S. Air Force if they don't take the COVID vaccine. According to the lawsuit, the Air Force granted 3,781 medical and administrative exemptions However, has granted ZERO religious exemptions to Airmen who were not already about to retire.
"These men and women invested their lives in their military careers, but they will choose their faith over their livelihoods if push comes to shove," Kobach said. "The First Amendment does not allow the government to deny someone the free exercise of religion. And when they freely grant secular exemptions while denying all religious exemptions, that violates both the First Amendment and the Religious Freedom Restoration Act."
"It's ironic that the Biden administration is defending its refusal to grant religious exemptions from a COVID vaccine mandate a few days after the President declared that the pandemic is over and a few weeks after the CDC acknowledged that vaccinated and unvaccinated people face the same risks." Kobach said.
His Air Force clients include pilots, and cyber warfare officers, and other crucial intelligence personnel. Evan McMillian is one of the plaintiffs in the lawsuit.
"When I made the decision to seek a religious accommodation for the vaccine, I never thought my career, my ability to serve as a future Reservist or Guardsman and 12 years of active duty military service would essentially be stripped away," McMillian said. "It was a tough place to be in and it didn't feel like there was a lot of hope. Kris Kobach gave that hope back. Knowing someone like Kris is in your corner and actively fighting for you is a true blessing. Kris fought for me, and he'll fight for Kansas."
A graduate of Harvard college and Yale Law School, Kobach is the Republican nominee for Kansas Attorney General. Kobach has made defending Kansans against overreach from the Biden Administration an important component of his campaign for attorney general. The Air Force lawsuit marks the third time Kobach has sued the Biden Administration.
He represented North Dakota companies and employees in a case against the OSHA vaccine mandate. He prevailed in the Supreme Court along with other attorneys in a consolidated case. And in a pending case, Kobach represents Texas sheriffs and Immigration and Customs agents who, under Biden's orders, are prevented from deporting illegal aliens convicted of violent crimes, including aggravated assault with a deadly weapon and sexual assault of a child.